In January we launched our new banking App, providing our members with an even better platform to perform their banking on the go.
With increased functionality and an improved member experience, the new MOVE Bank App introduced a range of exciting new features for members across Android and iPhone.
Some of the highlights include:
- Secure access using a PIN, Fingerprint, Face ID, Pattern or Password
- Savings tracker and calculators
- Funds transfer with OSKO and bills with BPAY
- Redraw feature on eligible loan accounts
- Payees schedule future payments
To learn more about the new MOVE Bank App and make the most out of the features available, visit out comprehensive FAQ's page at movebank.com.au/app-faqs.
Track your savings at a glance
One of our most exciting new features is the Savings Tracker tool. This function allows you to set a personalised savings goal and monitor your progress on the home screen of the App. Whether you're saving for a new car, a weekend away, or even a home deposit – the savings tracker is here to help you meet your goals.
To begin, swipe left from the home screen then simply name your savings goal and assign your target. Link this goal to your chosen MOVE Bank account and monitor your progress. What if your goal changes? Not to worry, you can adapt the goal as you go or set a new goal once you've reach it!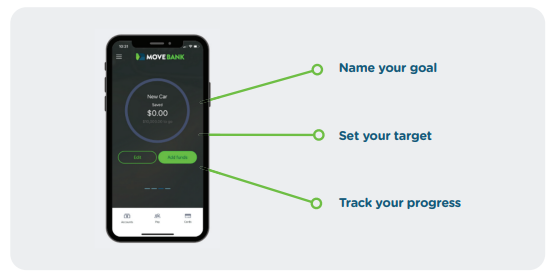 View Blog By Category
Tags