Daily transfer limits
Some of the most commonly asked questions by our members are about their banking limits. Here is a simple guide on our daily limits and transaction options: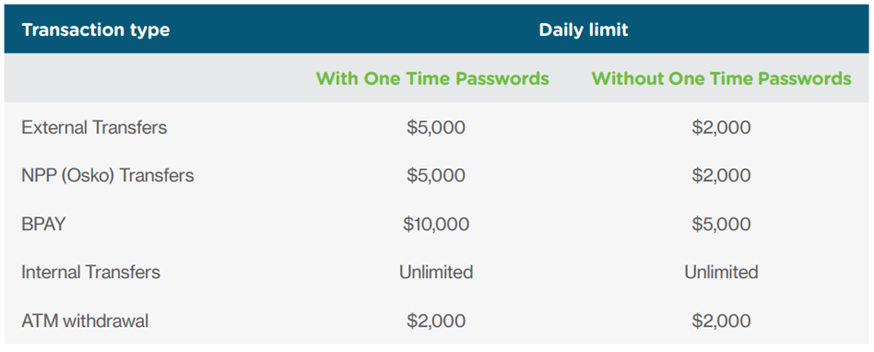 What if I need a higher daily limit?
Sometimes you may need to increase your daily limit to make a big purchase such as a new car or caravan.
For members with One Time Passwords, simply call the friendly MOVE Bank team on 1300 362 216 and we can raise the daily limit for you. For security reasons, temporary daily limit change requests are only available for members registered One Time Passwords.
How long does it take for my transfer to process?
If you're looking to make an external transfer, it is best to plan ahead. Generally, transfers to an external bank will be received the following business day. So, if you're transferring funds on a weekend or public holiday it's important to keep this in mind.
Need a quick transfer?
Osko transfers are processed in near real time and are available 24/7. BPAY also offers same-day processing if you make the payment before 6pm.
Osko
Osko payments are a great way to make quick, near real-time payments. As well as being able to make payments without delay, Osko allows you to use a PayID to identify your account instead of your bank details.
A PayID allows you to securely link your bank account to your phone number or email. This means you no longer have to remember your BSB and account number to get paid or make payments.
Visa card management at your fingertips
Managing your Visa card is easier than ever with MOVE Bank's App and Internet Banking. You can activate and manage your card whenever it suits you, with no restrictions to business hours.
How do I activate my card?
If you need to activate a new card, you can do this through Internet Banking or via the MOVE Bank App. Simply navigate to 'Card Activation' under the Services menu when logged into Internet Banking, or select the 'Cards' icon within the App.
How do I change my PIN?
If you are looking to set or change a PIN, you can do this at any time by selecting 'PIN Change' under the Services menu on Internet Banking, or by clicking on the 'Cards' icon within the App and selecting the relevant card.
Did you know?
Going to make a big purchase on your Visa Card? No need to worry about daily limits with unlimited Visa transactions by selecting the CR button.
 

 

Forget your BSB and Account Number for good!


Register on the MOVE Bank App in minutes.

Login to the MOVE Bank App
Select 'Transfers' under the 'Home' tab
Click PayID and select 'Add New'
Add your details and click 'Confirm'


For more information on PayID visit movebank.com.au/payID
View Blog By Category
Tags