Thank you to all members who took the time to complete our annual member survey in October last year- your insights are invaluable.
We received an impressive amount of information about what we're doing well and opportunities where we can improve.
What you said
More features
You told us that while you like the user-friendliness of the MOVE Bank App, you'd like to see more features added. The good news- in early 2021 we will be launching the new MOVE Bank App which includes improved features to help you bank on the go including the ability to share receipts and manage your Visa card.  
Competitive rates
We received an overwhelming amount of positive feedback from members about our competitive offering. Over the last year, we've simplified our product range and adjusted rates to ensure we're offering members maximum value. It is great to see that this approach is not only being well received by members but is playing a vital role in attracting new members to MOVE Bank.
How does MOVE Bank measure up?
As a member-owned bank, one of our main priorities is ensuring we are meeting your needs. One of the ways we assess our performance is through our Net Promoter Score (NPS), which provides a rating on how willing members are to recommend us to their friends and family.
In 2020 we were rated with a positive score of +50.50, which is an 8.25-point improvement on the 2019 result. This score confirms that members are very satisfied with MOVE Bank, especially compared to the major banks average score of +9.96. Our strong Net Promoter Score confirms that members trust MOVE Bank not only to look after their financial needs but also the financial needs of the people they value most - their friends and family.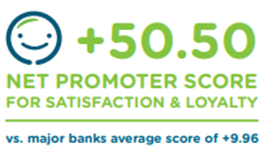 Your insights, more often
Ensuring that we continuously meet your expectations is extremely important to us, which is why we implemented our 'Voice of Member' program last year to gain real-time insights into member experiences after key interactions with our team.

This feedback has already played an important role in improving many aspects of the member journey and means we can hear your thoughts, more often.   
Congratulations to our lucky winners!

They've each won a $100 e-gift card for completing the member survey. 



    John A

    Dale L

    Kenneth M

    Trevor R

    Heather L

 
View Blog By Category
Tags