With online scams on the rise, we want to ensure that members have a high level of security when transferring money. From
Tuesday 7 November, to utilise the New Payments Platform for real time payments (OSKO payments), you will need to be registered for One Time Passwords.
To avoid disruption to services for our members, we have moved the date to allow members more time to opt in.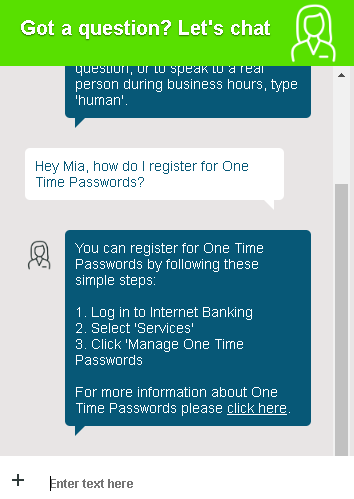 Registering for OTP means that you'll be asked to enter a unique code that is sent to your mobile, when you perform certain actions through Internet Banking and the Mobile App. This second verification provides an additional layer of security.
How do I register for One-Time Passwords?
If we have your current mobile number, then you can simply log in to Internet Banking and click on the One Time Passwords option within the " Services" menu. Remember, you must have access to the nominated mobile phone number to ensure you receive your SMS code.
If we do not have your current mobile phone number, you can update it in Internet Banking or contact us on 1300 362 216.
What if I don't want to use One Time Passwords?If you do not register
for OTP, from
 

Tuesday 7 November
you will no longer be able to perform OSKO payments. You will still be able to make standard payments through internet banking and the Mobile App.
View Blog By Category
Tags