For most of us, buying your first home is a very steep learning curve.
It means entering into a world of strange lingo, curious calculations and big decisions. Even for seasoned homeowners, buying property can be a daunting experience- that's why it pays to have someone in your corner.
Jake and Jessie from Acacia Ridge recently bought their first home with the help of MOVE Bank and lending specialist Brayden. They were eager to buy their first home, but like many first home buyers, they were a little apprehensive as well. That's where Brayden came in:
"Brayden made everything easy. He was honest, helpful and to the point. We could email him with any questions that we had and he was very prompt in getting back to us."
Now that Jake and Jessie (and their seriously cute pup) have moved into their first home, they've got some advice for other first home buyers:
"Don't be afraid to ask questions if you don't know something. We were in contact with Brayden regularly, and he was able to clarify any questions we had and tell us what we actually needed to know."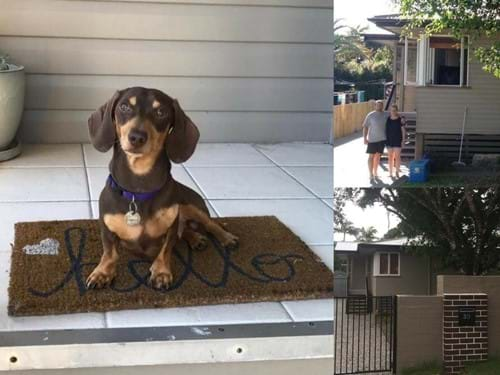 Brayden's top tips for first home buyers
Be consistent with your savings
When saving for your deposit it pays to be realistic. You'll only reach your deposit goal if you are consistent in saving. It's well worth doing up a budget to see where you are spending money and identifying any unnecessary expenses you could cut to increase your savings. There are some great budgeting tools to help you, such as our budget calculator.
Always allow extra for your deposit
When working out how much of a deposit you'll need, always allow a bit extra to cover costs such as legal, building and pest inspection, stamp duty (if applicable) and removalist costs.
Review your overall position
Buying your first home is a great time to review your overall financial position; in particular, whether you need all of the credit card limits you have in place. Remember: the higher the amount of credit card limits you have in place, the more negatively this will impact your borrowing power. If you're not using your total credit card limit, it could be a good idea to reduce it to a smaller amount or get rid of it altogether.
Get yourself a pre-approval
When you are serious about buying a home, be sure to get a pre-approval. That way you can go house hunting and know exactly what you can afford.
Ask plenty of questions!
If you're unsure about anything involved in buying your first home or have any questions, call your loan specialist. There is no such thing as a silly question – we've been through the process so many times, so we can relieve some of your concerns.
Saving up for your deposit?
Why not open our award-winning  First Home Saver Club account? It's got loads of features to help you get into your first home sooner and you can open it online in just minutes.
Ready to buy?
Get in touch with a MOVE bank lending specialist here or call us on 1300 362 216.
Check my borrowing power
Get an idea of how much you can borrow using MOVE Banks Borrowing Power Calculator.
Disclaimer: Whilst every effort has been made to ensure the accuracy of this calculator, the results should be used as an indication only. They are neither a quote nor a pre-qualification for a loan. This blog post is for general information purposes only and is not intended as financial or professional advice. It does not have regard to the financial situation or needs of any reader and must not be relied upon as financial product or other professional advice. You should seek your own independent financial, legal and taxation advice before making any decision about any action in relation to the material in this article. Railways Credit Union Limited trading as MOVE Bank ABN 91 087 651 090. AFSL/ Australian Credit License number 234 536 | ABN 91 087 651 
View Blog By Category
Tags